Introduction to Slot Games
Welcome to the exciting world of slot games, where spinning reels, vibrant symbols, and the thrill of chance come together to create a captivating gaming experience. Slot games, also known as slot machines or pokies, have been a cornerstone of casinos for decades, and their popularity has only grown with the rise of online casino platforms.
At its core, a slot game involves spinning a set of reels filled with various symbols. When the reels come to a stop, specific combinations of symbols can lead to winning payouts. The simplicity of gameplay, combined with the potential for significant rewards, has made slot game a favorite among both casual and seasoned gamblers.
Key Elements of Slot Games:
Reels: The spinning columns that showcase symbols. Traditional slots usually have three reels, while modern versions can feature five or more.
Symbols: These are the images that appear on the reels. They can be anything from fruits, playing cards, and numbers to themed icons related to the game's theme.
Paylines: These are the patterns across the reels where winning symbol combinations must align to trigger a payout. Some slots have a single payline, while others offer multiple ways to win.
Wild Symbols: Special symbols that can substitute for other symbols to complete winning combinations, increasing your chances of winning.
Scatter Symbols: Symbols that can trigger bonus rounds, free spins, or other features, often regardless of their position on the reels.
Bonus Features: Additional rounds or games within the slot game that offer extra opportunities for wins. These can include free spins, pick-and-win games, and more.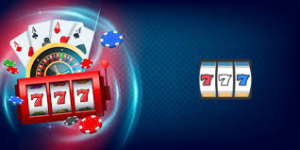 Slot Games: 4 Bonus Types
Slot games often come with various bonus features that add an extra layer of excitement and potential rewards to the gameplay. Here are four common types of bonuses you might encounter while playing slot games:
Free Spins: Free spins are one of the most popular bonus features in slot game. When triggered, you are awarded a set number of spins without having to wager any additional money. During free spins, you can still win regular payouts, and some games may have multipliers that increase your winnings during this feature.
Bonus Rounds: Bonus rounds are mini-games within the slot game that offer a different style of gameplay from the base game. These rounds often involve making choices, picking items, or interacting with the game in a unique way. Successfully completing the bonus round can lead to additional prizes or even progressive jackpots.
Pick-and-Win: In pick-and-win bonus features, you're presented with a selection of items, symbols, or options to choose from. Each pick reveals a prize, and you continue making choices until you've collected a predetermined number of rewards or until you uncover a specific symbol that ends the feature.
Expanding/Wild Reels: Some slots feature expanding wild symbols that can cover an entire reel when they appear. This can significantly increase your chances of forming winning combinations, especially if multiple reels become wild at the same time.
These bonus features add variety and unpredictability to the gameplay, keeping players engaged and offering the potential for bigger wins. The type of bonus features available can vary greatly from one slot game to another, so exploring different games allows you to discover which types of bonuses you enjoy the most.
Effective Customer Support
Effective customer support is crucial for providing a positive and satisfying experience for players engaging in slot games. Here's how effective customer support can enhance the overall slot game experience:
Prompt Responses: A responsive customer support team ensures that players' inquiries, issues, or concerns are addressed promptly. Quick responses create a sense of reliability and trust, helping players feel valued.
Clear Communication: Customer support agents should communicate clearly and provide accurate information. This is especially important when players have questions about game rules, bonus features, payouts, or technical issues.
Technical Assistance: Slot game can sometimes encounter technical glitches or errors. A dedicated customer support team can assist players in troubleshooting technical issues and guide them through potential solutions.
Account Assistance: Players may have queries related to their accounts, such as deposits, withdrawals, or account verification. An effective customer support team can provide guidance and assist with account-related matters.
Resolving Disputes: In the rare event of disputes or discrepancies, a reliable customer support team can mediate and work towards a fair resolution, ensuring that players' concerns are properly addressed.
FAQs
How do slot games work?
Slot games involve spinning reels with various symbols. When the reels stop, specific symbol combinations along paylines can result in winning payouts. The outcome is determined by a random number generator (RNG), ensuring fairness.
What are paylines?
Paylines are predetermined patterns across the reels where winning symbol combinations must align to trigger a payout. Some slots offer adjustable paylines, while others have fixed ones.
What are wild symbols?
Wild symbols can substitute for other symbols (except special symbols like scatters) to create winning combinations. They can increase your chances of winning.
Conclusion
In conclusion, slot games have established themselves as a timeless and captivating form of entertainment within the world of gambling. Their simplicity, combined with a diverse range of themes, features, and opportunities for big wins, has contributed to their enduring popularity among players of all backgrounds. As we've explored the realm of slot games, several key takeaways emerge:
Thrilling Variety: From classic fruit machines to modern video slots, slot game offer an incredible variety of themes and gameplay styles. Whether you're drawn to ancient civilizations, fantasy worlds, or pop culture icons, there's a slot game tailored to your interests.
Engaging Gameplay: The easy-to-understand mechanics of slot game make them accessible to newcomers, while the inclusion of bonus features and interactive rounds adds depth and excitement for experienced players.
Innovative Features: Bonus rounds, free spins, expanding symbols, and progressive jackpots are just a few examples of the innovative features that enhance the gameplay and provide the potential for significant rewards.
Visual Delights: The evolution of graphics technology has allowed slot game to showcase stunning visuals, intricate animations, and immersive soundscapes that transport players to different worlds.
Fair Play: Reputable casinos ensure the fairness of slot game through certified random number generators (RNGs), offering players a level playing field and an unbiased chance at winning.